As I develop on a voluntary basis I DO NOT PROVIDE ANY WARRANTIES AND I TAKE NO LIABILITY FOR ANY DAMAGES that could arise when using it. There is no association between the developers of K-9 Mail and me. USE IT AT YOUR OWN RISK.
Latest Stable:
1.1.2
Download
Latest Beta:
none

See http://www.android-hilfe.de/kommunikation/150514-maillistwidget-k-9-homescreen-widget-fuer-k-9-mail.html for german discussion thread.
Features:
list latest mail of inbox
view and delete latest mails
9 Widget Sizes 4x1, 4x2, 4x3, 4x4, 5x1, 5x2, 5x3, 5x4, 5x5
unified inbox / single accounts selectable
variable text size
minimal battery drain (no wakeup if asleep)
mark unread mails (since K-9 Mail version 3.900)
TODO:
resizeability
themeing
color coding for different accounts
scrolling
mark mails as unread without opening (not yet supported by K-9 Mail)
change settings during runtime
access settings from widget
options bar for new mail / options / refresh
Screenshots: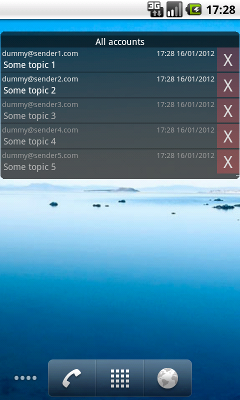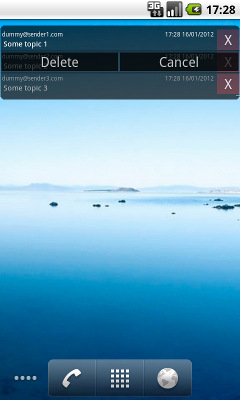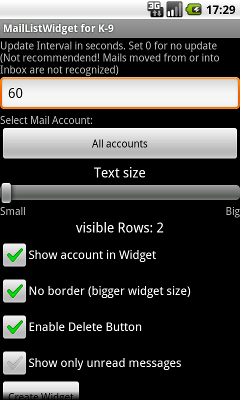 Changelog:
Another small fix for a crash on some devices
Fixed crash on Honeycomb devices
New scrolling support (requires Android 3.0 or higher)
New resize support (requires Android 3.1 or higher)
A lot of internal improvements
Fixed a crash that came with version 1.0.3
Fixed unset accountname problem.
Fixed another crash.
Fixed some bugs and crashes. Better error handling
Initial release